10 Best YouTube Video Editors for Beginners In 2021
In today's world, if your goal is to be a superstar, you no longer have to depend upon being featured on TV or in magazines. You only need to have access to a few tools: a mobile device with good video, a camera, a laptop, and internet access.
Did you know that videos on social media are 12 times more likely to be shared than content that only features text and/or images? According to the experts, approximately 1/3 of internet users spend time watching videos. Additionally, it's been proven that marketers that use video as part of their strategy increase their revenue by up to 49% over those who do no use video.
This is just a few of the advantages to start shooting/editing videos. However, you must find the best platform, produce quality content, and use the best video editors in order to become an internet sensation.
One of the best platforms to monetize/grow your business is YouTube. Of course, you can't just haphazardly create content. You must have an understanding of what is trending. Additionally, you must make sure that you're using the best editing software for YouTube videos.
In this article, we'll explore the 10 best YouTube video editors for beginners. This will help you get started off on the right foot, ultimately growing your brand. You might believe that editing should be left to the professionals- and that's fine, if you wish to pay someone- but the truth is, the software options listed here are so easy to use that anyone can do it. 

Tips for Choosing the Best Video Editing Software
Before we start showing you the benefits of the 10 best video editing software for YouTube, let's take a look at some things to keep in mind when choosing your software:
Brand: when you're a beginner, one of the most important things is the brand of software. You want to choose software from a well-established, reputable company. You don't want to snatch the first free option you find when you do a search. You'll find that it's much easier to get customer support and product updates when you deal with an established company.
Price: when you are shopping for video editing software options, you definitely want to keep your budget in mind. Many of the options listed here are free- but there will be situations where you will need to pay a premium if you wish to have some of the more advanced features.
Practice: you can take the time to learn how to edit videos online even before you choose a video-editing software. There are lots of instructional videos available on YouTube and other platforms. Many of the companies provide tutorial videos that you can download or stream. Additionally, most of the time, you'll be provided with detailed instructions from the manufacturer when you do choose a software to use.
PC/Mac Compatibility: when choosing an editing software, you'll want to make sure that you choose programs that are compatible with your device. There is some software that is specifically for Windows or Mac only. On the other hand, some can be used on either type of device. Some of the other software is web-based, which means the device is irrelevant.
Resolution: make sure that you pay attention to editing software that allows you to import/edit high-res videos. Additionally, the software that you use should be able to import/edit videos from the camera or smartphone used to shoot your videos.
Stabilization: when you're just starting out, you may have difficulty holding your camera still when shooting videos. Many of the editing programs offer video stabilization which automatically stabilizes any images that are shaky.
GoPro Correction: if you're shooting with a GoPro or other action camera, you are aware that the footage isn't always the best. However, most of the beginner video editing programs will automatically correction action shots with one-click.
Face Detection: one of the newest features in video-editing software is face detection. This allows the program to scan videos and identify the clips that include faces. Therefore, you'll be able to choose the best clips to do some fun editing such as zooming in/out on a particular face.
Social Media Export: many beginner video creators desire to share their videos and most of the editing software makes this easy. In addition to importing videos from devices, the software makes I easy to export to the web, especially to popular social media platforms. You will just need to login to your account and upload the file to your page.
Now that you know what you should consider when choosing a video editing software for your YouTube videos, let's explore the 10 best YouTube video editors for beginners.
10 Best YouTube Video Editors for Beginners
In this section, we'll take a look at 10 options for video editors. Most of these are free, some have only paid options. Take some time to research them and figure out which one will work best for your needs.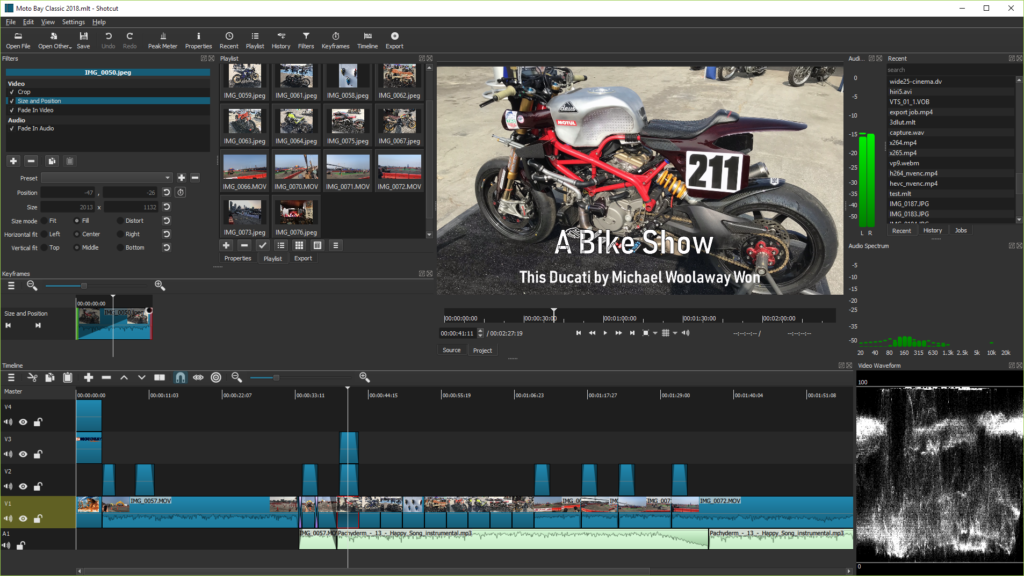 Shotcut
Shotcut is a terrific free video editor for desktop. This software is flexible and is available for OS X, Windows, and Linux. It supports a variety of file formats for both audio and video footage.
Shotcut is a lot like many of the other YouTube video editors on the market. You will simply upload your audio and/or video and apply effects/subtitles as desired. Once you have made the necessary edits, you can convert the file into one that you can upload to YouTube.
Shotcut Advantages
Accepts a variety of file formats
Is functional across several platforms
Includes a variety of audio features including bass, high pass, expander, treble, swap channels, and copy channel
Menu is customizable
Shotcut Disadvantages
Only available on desktop, mobile version not available 
Filers cannot be previewed before applying 
Videos can't be shared directly to YouTube or other platforms 
Originally built for Linux, so it's a bit difficult to use on other platforms 

Adobe Premiere Pro
If you'd prefer to have the opportunity to try a software before you purchase it, Adobe Premiere Pro is a great option. This software is ideal for a variety of uses from social media platforms to TV to film footage.
You can use this software to edit a variety of video footage formats. Additionally, it works with other apps under the Adobe umbrella: Adobe Photoshop, Adobe AfterEffects, Adobe Stock, Adobe Audition, and more. There are also some useful tools such as Film Impact that will make it easier to edit your videos.
This is a great software because it works on desktops as well as mobile devices.
Adobe Premiere Pro Advantages
Features a variety of tools, plugins, and more
Pairs well with other Adobe software
Offers library/plugin support
Able to upload multiple videos in the software
Interface is quite attractive
Adobe Premiere Pro Disadvantages
Free trial is very limited, license is expensive 
Slow rendering of video 
Adding titles is difficult 

Apple iMovie
Apple iMovie is video editing software developed specifically for iOS, iPad, and Mac. This software is free and offers more than 80 soundtracks. This software even supports 4K footage! You can add sounds, titles, and effects to your videos with this software. You will find that this software is so easy to use that even a beginner can edit videos to look like a pro did it.
Apple iMovie Advantages
Videos can be uploaded to social media from the software
Offers a user-friendly interface
Includes auto-save feature
Start/end of videos can be trimmed
Apple iMovie Disadvantages
Limited to Apple devices 
Few options for headline/text 
Video export process takes awhile

Lightworks
Lightworks has been on the market for 25 years and is known as a cross-platform software. You can use this software on Mac OS, Linux, and Windows. When you visit their website, you'll find all of the versions.
This software is regularly used by the film industry, meaning that everyone from camera operators, editors, sound engineers, and even bloggers use it. Lightworks is cloud-based and received an Emmy Award in 2017 for digital non-linear editing.
Lightworks Advantages
Videos can be directly exported to YouTube
Great for managing content
Works with a variety of formats, up to 4K
Offers multi-channel support
Lightworks Disadvantages
Pro version is not free 
Free version only allows export of MP4 to YouTube 
Management system can be complicated 

Final Cut Pro X
Final Cut Pro X is video editing software published by Apple Inc. There are several similarities between this and iMovie. This software is made for Mac OS and offers multi-camera editing features that allow you to view up to 16 angles at once.
The good thing about this editor is that it integrates with YouTube, Vimeo, and Facebook and videos can be exported in a variety of formats.
Final Cut Pro X Advantages
Variety of plug-ins available
Effects can be previewed before being added
Multi-camera editing
High-res
Final Cut Pro X Disadvantages
Limited to Apple devices 
Is costly 

Movavi Video Editor Plus
The Movavi Video Editor Plus software is great for using when you want to do remote work. There are more than 3 million users of this software in more than 200 countries.
The Movavi Video Editor Plus interface is really easy to learn and use.
Movavi Video Editor Plus Advantages
Can be used on Mac OS and Windows devices
Offers a library full of stock audio, video, and photos
Allows users to record from mics/webcams
Offers advanced effects with a simple interface
Movavi Video Editor Plus Disadvantages

HitFilm Express
HitFilm Express is a great all-in-one software. Its free to download and features a variety of ready-made templates that can help you easily and effectively edit your videos. The downloadable version of this software can be used on Mac OS and Windows. You can export your video in a variety of formats.
HitFilm Express Advantages
Offers various lighting effects
Can choose from a variety of titles
Able to animate 3D model
HitFilm Express Disadvantages
Can't be used on mobile devices
Slow export speed
Must purchase additional features to enhance videos

Adobe Premiere Rush
Adobe Premiere Rush is available on both desktop and mobile devices. The software is free to use and includes lots of features including animated titles, audio, and graphic transitions.
This software also includes tutorials that guide you through the various features of the software and offers tips/tricks to help with effectively editing your content. The primary audience for this software is YouTubers and bloggers.
Adobe Premiere Rush Advantages
Simple, comfortable interface
Tutorials available
Optimized for use with social media platforms
Adobe Premiere Rush Disadvantages
Free version is limited
Premium features require subscription
Limited professional features available

Corel Video Studio
This software works on both Android and Apple devices and has been created for a variety of skill levels. This makes it ideal for the beginner YouTube video creator. Videos can be edited in 4K and exported directly to YouTube. Additionally, there is a wide variety of editing features available.
Corel Video Studio Advantages
Offers 360, HD, and 4K video editing
Includes royalty-free music library
Ability to create split-screen video
Includes overlays and templates
Corel Video Studio Disadvantages
Free version only lasts 30 days
Needs to be updated regularly
Very little explanation on how to use the software

Blender
If your videos have a 3D focus, that is your content features graphics, Blender may be the best software for you. Its free and works across a variety of platforms. You can work on audio mixing and this software offers live previews.
Blender Advantages
Offers ability to do animating, rendering, and 3D modeling
Wide variety of filters and transitions
Features detailed timeline
Blender Disadvantages
Menus/toolbars are cluttered
Interface is distracting
Difficult to sync audio and video
Tips for Improving Your YouTube Channel
Now that you've been informed of the 10 best YouTube video editors for beginners, let's consider some basic tips on improving your YouTube channel.
After all, there's much more to creating YouTube videos than simply making the video, editing it, and uploading it. You need to make sure you have optimized your channel to reach your target audience.
Here are 5 tips for improving your YouTube channel.
Determine your goals
Chances are you've probably already decided on your niche- but have you decided what your purpose and goals are? Are you there to make people laugh? Perhaps you want to provide easy access to information on the other hand, maybe your purpose is to help your viewers. No mater what, you need to figure out what your goals are and focus on them when you create your videos.
Think about how many views you'd like on your videos or how many subscribers you'd like to get. Then, take a look at your competition and figure out what is working well for them. Then, you can try implementing some of that into your channel.
Make Your Videos Short
Audiences today are always on the go. No one has time to sit and watch long videos anymore. Attention spans are much shorter than they've ever been. Therefore, it's recommended that you keep your videos between 2 and 5 minutes- at least until you know what works for your channel.
Keep in mind that until you gain some popularity, chances are that your viewers won't even know who you are. However, you can build your fan base (that is popularity) by creating short videos. Once your fan base is built up, you can start making longer videos.
Choose Thumbnails Carefully
The most effective way to market your videos is with a title and thumbnail. When someone searches for videos, the thumbnail is the first thing they will notice when scrolling through the results. You must make sure that your thumbnail is more captivating than your competitors.
Respond/Engage with Your Viewers
When people comment on your YouTube videos, you should engage with them. This will show your subscribers/viewers that there is a real person behind your account and it's not an automated one.
The more time you spend engaging with your commenters, the more trust will be built between you and your viewers. This will likely result in them coming back and visiting your channel in the future.
Make a Plan for Your Videos
There will be times when your creativity will be lacking, or you will struggle with providing content to your viewers. Therefore, take some time now to go through some other videos and jot down ideas for future videos of your own, along with potential titles.
By planning your videos ahead of time, you can take a look at your competitors and learn how to produce eye-catching content.
Conclusion
YouTube is a popular video platform. However, there's more to it than simply taking a video and uploading it. You'll need to take the time to edit them first. These 10 best YouTube video editors can help you edit so that they appear professional. Of course, though the software is for beginners, if you're not comfortable with doing it yourself, you can hire someone to take care of it for you.
When creating videos, take some time to learn what is trending and shoot video that falls within that category. Then, take some time to edit/polish it to perfection. Finally, post it to YouTube and share it all across social media.
Finally, make sure that you're only making short videos if you're just starting out- and engage with those who are commenting, liking, or otherwise interacting with your videos. This will build a relationship with your viewers.